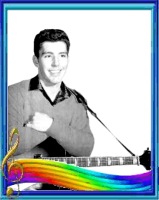 1933 - 1999
This page is dedicated to the memory of Buddy Knox who passed away on February 14, 1999 in Port Orchard, Washington. We will remember the great songs that Buddy gave us for many years to come. Buddy's 1957 recording of "Party Doll" is still one of the greatest Rock-A-Billy recordings that was ever recorded. "Lovey Dovey" is another Buddy Knox recording that has not received the proper place that it so it so richly deserves in the annals of Rock & Roll Music. We want to take this opportunity to thank Dr. Becky Carpenter for her cooperation. Becky & Buddy were to have been married on the 28th of February; two weeks after Buddy passed away.
Buddy was one of the first performers that was contacted for the "Pioneers Of Rock & Roll", and he was the opening act for the Friday night portion of the show. Even though Buddy Knox has passed on to the Great Rock-A-Billy heaven in the sky, he will always be a part of this great show.
This is dedicated to the memory to Buddy Knox from one of his biggest fans.
Shelby (Lex) Riggs
Co-Producer, "PIONEERS OF ROCK & ROLL"
Henderson, Nevada
Copyright © 1998-1999-2000
AMB Web Design
All rights Reserved